COD Modern Warfare 2 Aimbot (Ghost Level 2)
$14.99 – $159.99
COD MW2 Ai Aimbot (Ghost level 2)
Cheat released: 20th September 2022
Undetected since: 20th September 2022
Cheat Requirements: Windows 10 or 11
Supported Anti Cheats: Ricochet & Warden
Need a private build? Check our Ghost level system <
Description
COD Modern Warfare 2 Artificial Intelligence Aimbot
(Ghost level 2)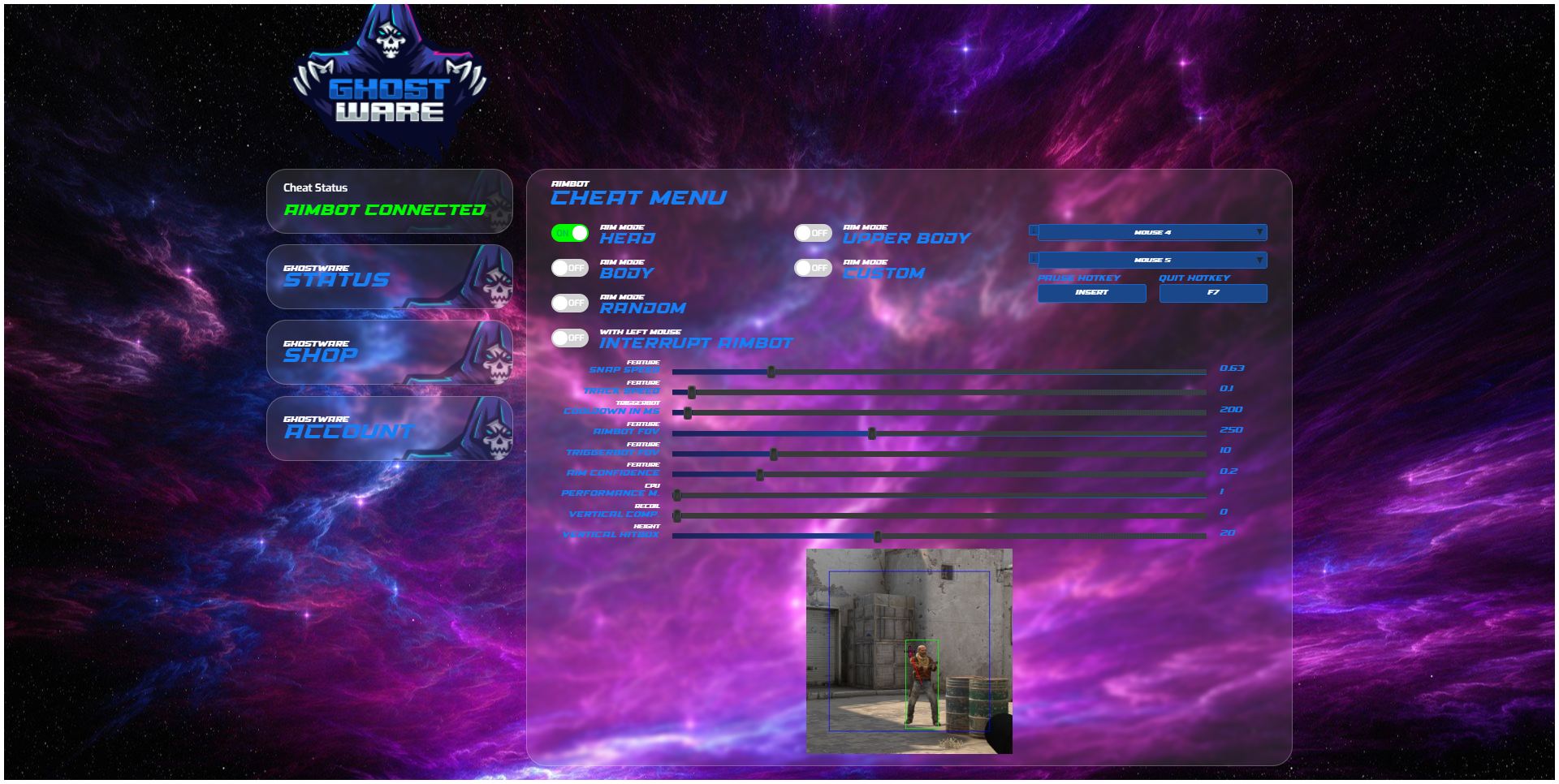 Please note: This product is a Ai Call Of Duty Modern Warfare 2 Aimbot, no wallhack or ESP. The image above is showing our Ai detecting a player model in CSGO.
⮞ Hitbox selection
⮞ Customizable Aim Key
⮞ Triggerbot/Flickbot
⮞ Customizable Triggerbot Key
⮞ Aimbot Smoothness
⮞ Aimbot/Triggerbot FOV
⮞ Advanced recoil control
⮞ Fully external Ai
⮞ No memory reading
⮞ No game file hacking
⮞ Only interacts with game window
⮞ Unique kernel mouse driver
⮞ Web-based cheat menu outside of game
⮞ Anti crack/leak protection
⮞ GPU driver up to date
⮞ Windows 10/11 latest build
⮞ 1080p or 1440p monitor
⮞ 3rd party anti virus off
⮞ No shadow PC support
⮞ No Internet Cafe PC support
Our Aimbots are different
The main difference to other cheats is that our Call Of Duty Modern Warfare 2 Aimbot doesn't need to interact with the games code or files to work, unlike competitor products. Anti cheats focus on cheats actively hacking the game since that is the common practice for cheats. But Ghostware is different. Our Ai cheat will only look at your game screen the way you do yourself. This is the securest cheat technology to this date.
Become a PRO in your game
Like the majority of our users you are probably good at the game already when it comes to movement, teamplay and game awareness. But you sometimes loose important aim duels. This is where Ghostware shines. Our Aimbot will help you pushing your mouse smoothly on target, whenever you want the aim assistance. Legit looking to spectators and team mates. Become the PRO you deserve to be.
Be part of an exclusive community
Ghostware joined the cheating scene in 2018 and since then we have been building up an exclusive community with gamers from around the world. We make sure that toxic users stay outside. On Ghostware you meet gamers like you! Team up with other Ghosts to dominate in your favourite game, have friendly chats with our developers and rank up in our ghost-gang to enjoy premium cheat access. What are you waiting for?
Additional information
| | |
| --- | --- |
| Runtime | 7 Days, 30 Days, 90 Days, Lifetime |